Rapid change of the business environment creates extreme pressure on the corporate management of global businesses.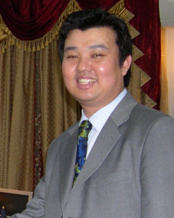 Since we began the overseas investment and business development in London in 1999, we have continued to expand our business domains worldwide and to raise our capacity and status.

With this worldwide status, we have proven ourselves in civil business and governmental cooperative enterprises as well as national economic development projects.

We also manufacture and supply our own competitive products and seek to develop new business opportunities and abilities, as well as investments and funds in the domestic market looking towards the global market.

Not only do we carry on business with governmental support and cooperation, but also establish the strategy and ensure the competitiveness for growth in the future, evaluating the growth and potentialities of our customer, whereby we raise our value as a professional company with worldwide competitiveness.

Make Group, as a professional company, is not content with where we are now, but we continue to challenge ourselves in the future on the world stage. This future is the dream that we will realize with you together.

We, Make Group's staff promise to make our best efforts to partner our customer's success and dream, which constitutes our mission.